HBI production
11-03-2022
Hot Briquetted Iron (HBI) is a premium form of DRI that has been compacted ata temperature greater than 650°C at time of compaction and has a density greater than 5,000 kilograms per cubic metre (5,000 kg/m3).
HBI was developed as a product in order to overcome the problems associated with shipping and handling of DRI - due to the process of compaction it is very much less porous and therefore very much less reactive than DRI and does not suffer from the risk of self-heating associated with DRI.
The principle market for HBI is electric arc furnace (EAF) steelmaking, but HBI also finds application as a trim coolant in basic oxygen furnace (BOF) steelmaking and as blast furnace feedstock.


1. HBI Briquetting Process
The schematic represents the HBI briquetting process.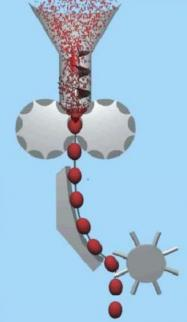 Direct Reduced Iron is discharged hot from the reduction furnace and screw-fed into the nip between two counter rotating rollers. Pockets in the synchronously rotating rollers form the briquettes. This process occurs at high temperatures (typically approx. 700 °C) and high pressing forces. The continuous string of briquettes leaving the rollers is guided by a heavy chute and is separated into mostly single briquettes, for example by a rotor with impact bars.
Briquettes from fine material, produced in fluidised bed processes, may also be separated in a rotating tumbling drum.
2. HBI Production Plant
The HBI production plant (Figure 2) typically consists of the following sections:
▪ Briquetting press with screw feeder and material supply
▪ Briquette string separator (impact separator or tumbling drum)
▪ Hot screen for the elimination of fines which occur during
▪ briquetting and separation
▪ Product cooler
▪ Bucket elevator for the recirculation of hot fines to the briquetting press
▪ Chutes and accessories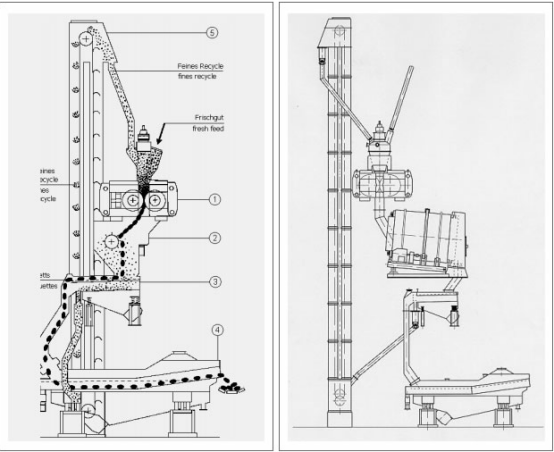 The key component in hot briquetting is a specially designed roller press. Figure 3 shows the 3D diagram of HBI equipment of our company.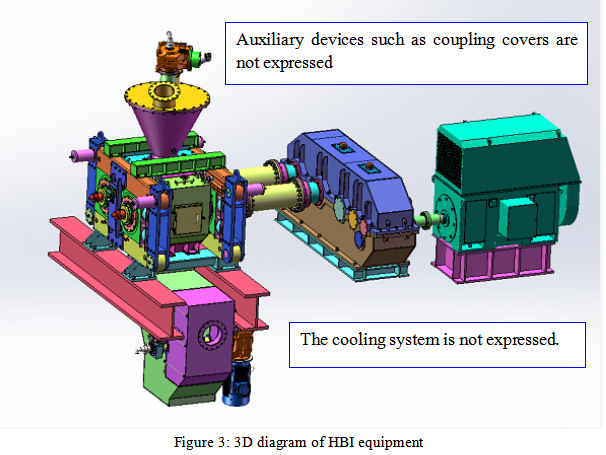 The layout of the hot briquetting plant, which usually includes several lines to suit volume requirements, is designed to maximise plant availability, for example during scheduled maintenance on the machines and the system. Innovation and development are key to optimum production of HBI: for example, alternative concepts for briquette cooling are under consideration and larger machines are being designed for more effective handling of the higher output of future direct reduction plants.