High-pressure Briquette Machine
: KAIZHENG

: CHINA

: To be confirmed

: Sufficient
In practice, some materials are difficult to shape, and the binder is unwanted. So in this case, a briquette machine with higher line pressure is needed. Generally, we consider a roller press with a line pressure ratio of more than 20t/cm is an ultra-high pressure ball press.

Compared with the high pressure briquetting machine, this equipment has its unique characteristics:
1. All motors and reducer have a direct structure, which makes the transmission more accurate.
2. The application of variable pitch screw is indispensable, and it aslo brings a better result through the accurately machined prepress screw.
3. The sealing technology on both sides of the prepress screw and roller is one of the important features of the briquetting machine. Its sealing effect better ensures no pressure relief for material that under the ultra high pressure and closed environment.
4. The automatic control and protection ability are strengthened in control system.
Briquette Machine Applied materials:
Minerals: bauxite, limestone, aluminum ash, dolomite, gypsum, clay, magnesium oxide, fluorite, pigment, laterite nickel ore, vanadium pentoxide, zirconium hydroxide, zirconium zirconate...

Metallic minerals: chromium nickel iron, manganese metal powder, silicon manganese alloy, molybdenum oxide, chromium ore powder, manganese ore powder, chromium iron, nickel iron...

Cold pressing block of direct reducing iron.

All kinds of dust removal ash.(electric furnace dust removal ash, converter dust removal ash, blast furnace dust removal ash, sintering powder, coke powder...)

Coal, black carbon, graphite, charcoal...


Iron coke, carbon containing pellets...



Briquette Machine principle:
The powder material is compressed between a pair of rotating rollers, the one is movable and it provides pressure through a hydraulic system. It might be single material or mixed material, even binder is needed sometimes.
Briquette Machine Process: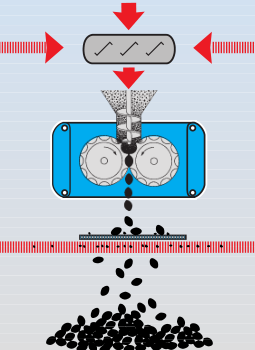 Different materials have related briquetting performance, which requires a reasonable and optimized machine. It is also significant in taking the quality of final product into consideration.
The briquetting performance of a material depends on itself, such as the fineness, grain size, water content, composition, etc., which usually needs to be determined by testing.
Not all materials have sphericity, if the bonding force between the material particles is low, a suitable adhesive is necessary. According to the physical properties of the material and the purpose of the final briquette, the choice of binder needs to be made based on its bonding performance and use cost.Various adhesives such as starch, bentonite, asphalt, quicklime, cement, water, flour, lignosulfonate, molasses, polymers, resins, sodium silicate and new composite binders are for specific purposes.
The key process of briquetting machine is "continuous quantification", which usually requires continuous batching, mixing and subsequent drying links (see the batching and mixing links in the sample booklet).
In practice, Kaizheng has accumulated considerable experience with a complete turnkey system, including electrical interlock and interface control, that integrates system molding units to meet your specific needs.
Note: The process varies relating to different materials and applications.
Briquette Machine Technical parameters: