Medium Pressure Briquette Machine
: KAIZHENG

: CHINA

: To be confirmed

: Sufficient
In practice, we noticed that not all materials need high pressure briquetting, however, some medium pressure briquette machines are even more suitable for briquetting the certain materials. The difference with high pressure briquetting is that the smaller line pressure. The line pressure from 2t/cm to 5t/cm is considered as medium pressure briquetting machine. And the common ones are 3t/cm and 5t/cm.
Briquette Machine Process: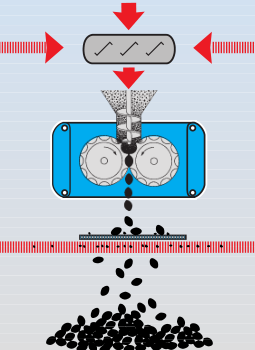 Different materials have related briquetting performance, which requires a reasonable and optimized machine. It is also significant in taking the quality of final product into consideration.
The briquetting performance of a material depends on itself, such as the fineness, grain size, water content, composition, etc., which usually needs to be determined by testing.
Not all materials have sphericity, if the bonding force between the material particles is low, a suitable adhesive is necessary. According to the physical properties of the material and the purpose of the final briquette, the choice of binder needs to be made based on its bonding performance and use cost.Various adhesives such as starch, bentonite, asphalt, quicklime, cement, water, flour, lignosulfonate, molasses, polymers, resins, sodium silicate and new composite binders are for specific purposes.
The key process of briquetting machine is "continuous quantification", which usually requires continuous batching, mixing and subsequent drying links (see the batching and mixing links in the sample booklet).
In practice, Kaizheng has accumulated considerable experience with a complete turnkey system,including electrical interlock and interface control,that integrates system molding units to meet your specific needs.
Note: The process varies relating to different materials and applications.
Briquette Machine Applied materials: Nickel laterite, desulfurized gypsum, cold-state coal briquette, formed coke, high water content material.

Briquette Machine Technical characteristics:

The transmission system: Motor -- reducer -- double shaft synchronous gear box with deceleration -- two rollers. The system belongs to pure torque output, and it ensures the two rollers rotate synchronously.

Roller structure adopts integrated roll sleeve or split roll sleeve structure.

Resonable feeding device like precompression screw is one of the core techniques in our company.


According to different briquetting models, we have a resonable and ingenious design of ball alignment.


Professional knowlege of roller materials is significant.

We have rich experience and knowledge in optimizing the entire structure and kinetic parameters, referring to specific material.
Briquette Machine Technical parameters: