Horizontal Twin Shaft Self-cleaning KneaderReactor
: KAIZHENG

: CHINA

: To be confirmed

: Sufficient
The KneaderReactor includes dissolution, reaction, evaporation, concentration or drying of materials under vacuum or atmospheric pressure, and it is a common industrial process which might meet in polymer, electronics, pharmaceutical, textile and other industries.

It is challenging for high viscosity material that with foaming or scaling condition. Great functions of mixing and self-cleaning are essential, no matter the end goal is for reaction, dissolution, or evaporation drying.
KZCP series twin-shaft self-cleaning KneaderReactor is an all-phase mixer, suitable for the polymerization of high viscosity materials and high consistency materials in reaction, drying evaporation, crystallization, dissolution and other operations.The equipment consists of a horizontal shell and a mixing center. In most cases, the inner wall of the horizontal shell must have strict tolerances.The shape of the central mixing is varied due to different materials and working conditions. When the mixing shaft rotates, the fixed cleaning mechanism intersects with the blades of the mixing shaft to remove the scaling on the equipment's surface.
In order to meet the special process requirements, Kaizheng developed KZD uniaxial self-cleaning mixer, which ensures the heat transfer, homogenization, film scraping and film stripping of high viscosity materials.
KneaderReactor Technical advantages:

Strong mixing and kneading function enhance heat transfer and mass transfer, which can adapt to various state changes of materials.

Big heating or cooling area ensures energy input, output and diffusion rates. The heating medium could be steam, pressurized hot water or heat-conducting oil. The cooling medium may be water, salt water or heat-conducting oil.

It has self-cleaning function and material interface update rate is high. The excellent self-cleaning function effectively prevents material from clumping, and increases the heat transfer coefficient and enhance the energy transfer at the interface.

Fully enclosed structure makes it able to operate under vacuum condition. Kaizheng proprietary discharging device is equiped to achieve continuous discharging.

Less material backmixing as it is close to horizontal push flow.

High material filling rate as it can reach 60-80%, which can improve the material residence time under the same volume.

Wide range of applicable materials, such as, organic matter, inorganic matter, heat sensitive material, wet content, powder, particle or viscous material.
KneaderReactor Technical parameters: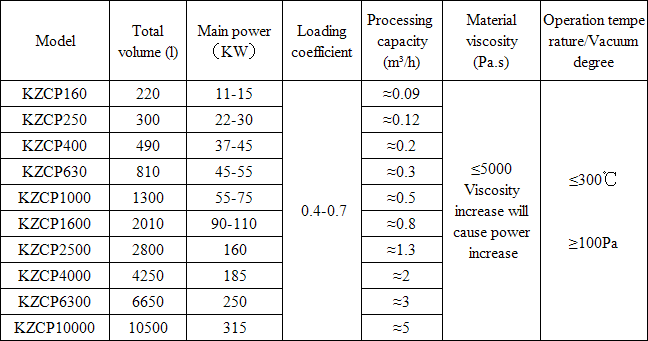 Regarding to the KneaderReactor, please provide us the following details, so that we can make an optimized solution:

1. Materials:
Density, moisture, viscosity, heat sensitivity, etc.

Specific properties such as toxicity, ph value.

Material retention time

2. Requirements for final product:
Operating purpose.


Processing capacity.


Operation mode.(continous or batch.


Operation temperature,vacuum degree or pressure,etc.